8:47 PM Posted In
Academy Awards
,
Fashion
,
Golden Globes
,
Oscars
,
Red Carpet
,
Screen Actors Guild Awards
Edit This
I really wasn't planning to post after yesterday's epic
Survivor post
, but here I am.
Incidentally for some GREAT insight and analyses of each character, backed up by real-life observations, check out
Dalton Ross' columns
on Entertainment Weekly that are being posted daily in the lead-up to the show. Oh EW, how I heart thee. Even your website is wicked. Sadly it looks like one of my early picks might be bested by a physical injury...or perhaps Dalton's just teasing.
Anyway back to why I'm posting. I decided to review the best/worst dresses lists for this Saturday's Screen Actors Guild Awards. Typically no one really cares about the SAGs, although as part of the illustrious 'road to the Oscars' people are putting more emphasis on every little hop, skip, and jump to the Academy Awards. And thus, the dresses.
I think the SAGs in general accounted for a better dressed bunch than the GG's, something I can only chalk up to people trying to go for it on the much higher profile GG's and feeling like they simply have to look 'nice' at the SAGs.
However in my more in-depth paying-attention-to-dresses run up to the Oscars, it seems that everyone is a critic, and everyone has criteria for what makes or breaks someone on either list.
Consider for example, Christina Hendricks (Mad Men's 'Joan') at the GG's. I LOVE this girl, especially for wearing Project Runway wunderkid Christian Siriano's custom-made dress. This picture actually does it more justice than both TV and other photos I've seen, yet the critics seemed wholly divided between awarding her a thumbs up or a thumbs down. I can see both sides - on one hand, her curves are out of control and this dress kind of emphasizes them through it's fleshy colour and it's wobbly waves. On the other hand, typically speaking Christina doesn't rock the red carpet (it's hard to find modern-day clothes that work with her rockin bod) and I think this dress was more successful than her usual outings.
In contrast, Christina is getting better vibes for this much 'safer' ensemble worn at this weekend's SAGs:
To me, red is underwhelming on a redhead, particularly one with as much flair as Christina.
She's a bit of a specialty in Hollywood, at least in terms of Old Hollywood glamour, class, and curves on the red carpet. So what makes for a guaranteed best dress spot? Here's what I can gather.
The best dressed are:
- Put together from head to toe: the hair, make-up, shoes, accessories, and most importantly the dress work together, not against one another. If one of these things is jarringly bad (like Emily Blunt's poor make-up at the GG's) it may knock you out of the running.
- More often than not, they aren't 'safe'. Black dresses rarely simultaneously top all best dressed lists, because too many people will deem them 'safe'.
- At the same time, the 'risk takers' can't be too risky. If the print is too wacky, if the features of the dress are too bizarre (like Drew Barrymore's wacky crystal anemones at the GG's), if the style is too unfamiliar (like Nicole Kidman's boho chic look at this year's SAGs), you will be deemed badly dressed, with the dress wearing you.
- The dress / look must be 'age appropriate'. This means if you're young, you can't be in something too fussy, and if you're old, you can't be in something too raunchy.
- The dress must cover and conceal well, while still showing an appropriate amount of skin. There are countless examples of where this rule bedevils some of them at the GGs - Annalynne McCord, Felicity Huffman, Mariah Carey, and even Marion Cotillard's hint of a slip were all cause for chatter.
- The gown must also be flattering - ideally. There needs to be some feature that either showcases a jealous-rage-inducing body part (like Jennifer Aniston's 'to there' slit at the GGs, not that I'm condoning basic black)
- And a cardinal, but inescapable rule. Your dress may NEVER incite predictable comparisons like "This wouldn't look out of place in a Hollywood wedding bridal party" (Fergie at the GG's) or "This dress will be the flying off the shelves for prom - because it already LOOKS like a prom dress" (Jenna Fischer at the SAGs). Thus, the oft-worst-dressed gals will try and slink by in simple, slightly adorned dresses, and be labeled worse than safe - pedestrian. Shudder.
There are a few dresses, and a few awards shows that break convention. Hillary Swank's fugly navy blue nun dress the year she won for Million Dollar Baby is an example - it was a TOTAL snoozefest on the red carpet, and while normally that dress would be cause for subtly passing Hillary Rachel Zoe's business card, it was interesting enough to make us all do a double take and consider that maybe just maybe it had some sex appeal and style after all.
Another example of defying all laws are the show stoppers, like J Lo's infamous Versace green dress, or Halle Berry's boobular flower-pastie dress (I'm being crass, it was no Lil Kim debacle, but it certainly wouldn't have worked for anyone else who wasn't winning that night). If you have the attitude, momentum, and popularity behind you, almost anything is possible on 'your' night.
For the record, who do I often count on for red carpet magic? Diane Kruger has really be working the carpet in the last while, to the point where she almost has me convinced her confectionery pink GG gown is fab (her mustard yellow dress from the SAGs truly IS fab, although a total take-off of Michelle Williams at the Oscars circa Brokeback Mountain).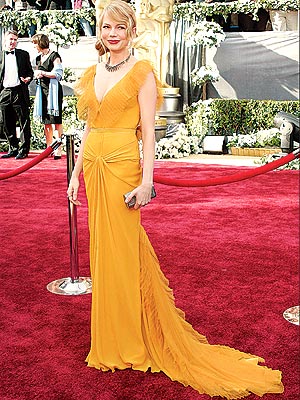 Beyond that, Reese Witherspoon and Kate Winslet can generally be counted on for flattering, fashion-forward looks that embody all of the good things a 'best dress' asks for, even if they veer slightly into 'safe' territory a little too often.
Other than that Hollywood is a total crapshoot on the red carpet. I have no respect for Jennifer Aniston's entirely black/cream/navy wardrobe, and it makes me sad to see Jenna Fischer and Mandy Moore continually not get it right.
Penelope Cruz generally does a solid job, but her style just isn't for me, and I can't put my finger on it. Perhaps it's the ease with which she carries everything off, the fact she spots dresses and bides her time for years before she wears them. I don't know.
What I DO know is I'll be watching the Oscar red carpet (hopefully NOT under an umbrella) like a hawk, and making my picks right then and there.
Till later,
Britt's On